Yesterday I choose to do a Blog Hop Project for
Die Cut Divas,
Fastabulous Cricut
and
My Sheri Crafts.
The project needed to be Thanks Giving Theme. I made some cute goodie bags for our family on Thanks Giving Day. We will fill the bags with some chocolates. My kids were so excited about them. My hope is that you will be inspired and enjoy them. The idea can be used for all the other holidays throughout the year, even birthdays or special occasions. Have fun with it.!!
Ingredients:
Plantin School Book Cricut Cartridge, Roly Poly Bag (6 in)
Simply Charmed Cricut Cartridge, Turkey 1 Shadow, Layer 1, Layer 2, Layer 3, (2in)
Give A Hoot Cricut Cartridge, Squirrel 1 Border (1in) for the leaves border
Cut a strip for bottom about 1 1/2 in and get it to fit on the wide part. Stamp it with a Fall themed stamp.
Cut small tag out of scrap cardstock (any size you like). I used decorative scissors. Make sure to distress the tag leaves, turkey and strip for bottom of bag with ink stamp pad. Any color will do.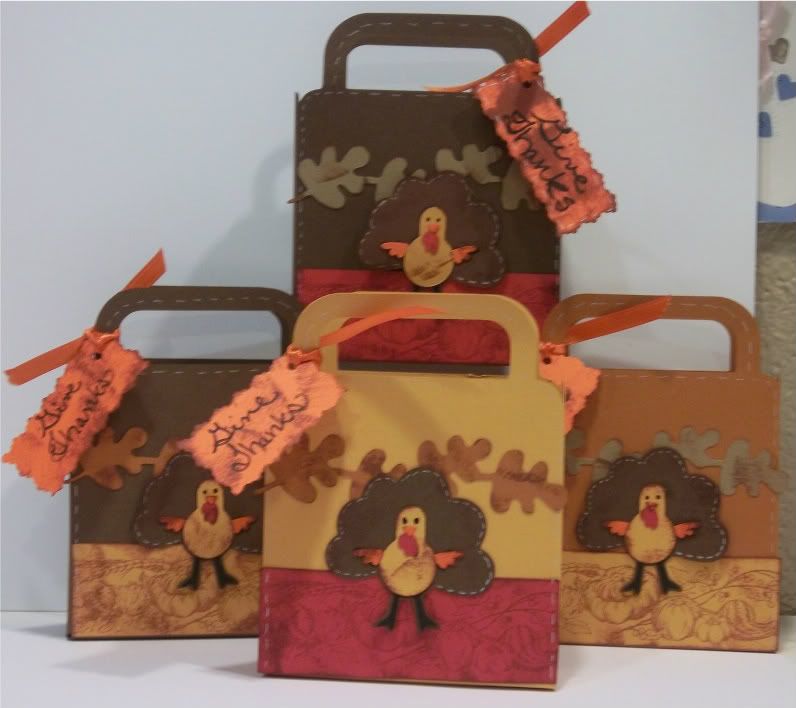 Happy Creating!!
Blessings,
Carol