I decided the other day to make something fun for Valentines Day. Check out this very cute little bag. Thought it would be fun to put some conversation hearts in it for my kids. Enjoy this fun little craft using your Cricut Machine and Sure Cuts A Lot computer program.
The wording and the heart were done with the SCAL program. For Christmas my husband blessed me greatly with a mini laptop and cd/dvd recording drive. Having the SCAL and laptop has truly opened up a whole new world with my Cricut Expression. I love the fact that I can weld letters together. Sure makes putting words on my projects a whole lot easier. If that was the only thing I used the SCAL program for it is so worth it.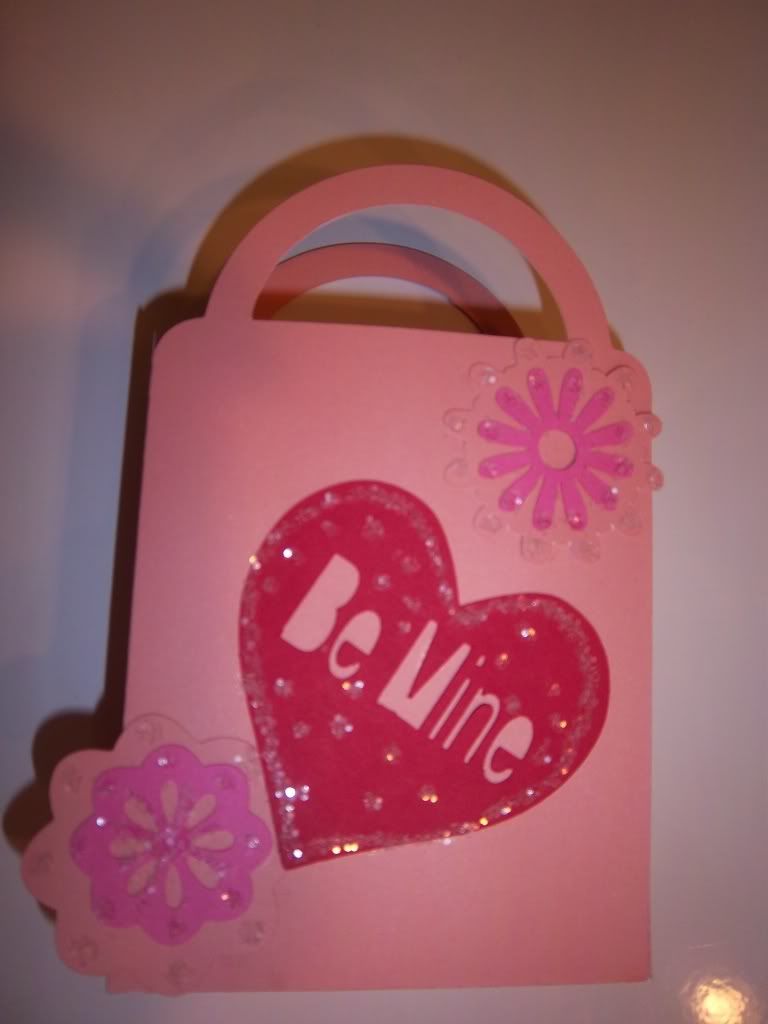 Supplies Needed;
Cricut Cartridge - Plantin School Book
Sure Cuts Alot or Cricut Design Studio
Solid Colored Card Stock
Glitter, Clear Liquid Glue
Sticky Dots
Terrifically Tacky Tape
Blade 5, Speed Low or Med
With your computer program SCAL or Cricut Design Studio create a heart with the words typed into it. See you manual for directions. It actually is very simple. Cut this design out. Next using the Cricut Cartridge Plantin School Book, cut a 7 inch bag.
Cut 2, 1 inch small flowers from which ever cartridge you would like to use. Cut 2, 1/2 inch flowers from a different color to layer on top of the larger flower. In fact you could use a different shape if that is your choosing.
Use your clear glue pen to put dots or lines on the flowers and heart. Sprinkle glitter onto the heart and flowers. Let dry for about 10 minutes.
In order to get straight fold lines, use the bone tool and ruler to make sure the small measure lines are lined up. Put the bag together with the Terrifically Tacky Tape, overlapping the tabs.
One the bag is put together, adhere the heart with the liquid glue pen and flowers with glue dots Or use an adhesive you have on hand.
This project was very simple and fun to put together. My kids are going to love their little bags with candy.
Remember think outside of the box and see what happens :)
Blessings,
Carol