This is a bit late in the posting. But, you know better late than never. Last week we had alot of appointments to take care of for our foster to adoption process. We are almost done with our certification for the fostercare part. Keep praying for us please. We appreciate them so very much.
Cute card for our friends daughter who recently married. This time I used the Paisley Cricut Cartridge. There are alot of super fun images on this cartridge. Again, I must say my Cricut Expression Machine was the best gift my husband ever gave me. I am able to do so many fun and creative projects with it.
Supplies Needed;
Paisley Cricut Cartridge
Sparkly and Plain Cardstock
Sparklie Glue
Instructions;
Cut 1- 2 in Dragonfly, Shift, layer1 Shift. This gives you all the parts of the dragonfly. Cut 1- 1/2 in Mushroom 3 Word, Word Shadow Shift. This cuts out the word "Wonderful" and the shadow for the word.
Premade card 4.25 H 5 1/2 W. I have a package of premade cards that I used now and then.
Cut a piece of cardstock for a mat that is just a little smaller than the card. Emboss the mat.
Assemble all the pieces and place on the card as shown in the photo. Just add little eyes and mouth. Use the glitter glue for the little cheeks. With a pen add details around the edge of the card.
Cute and easy card. The dragonfly image is a really fun one. Remember think outside of the box when creating. You never know what will appear in your creations.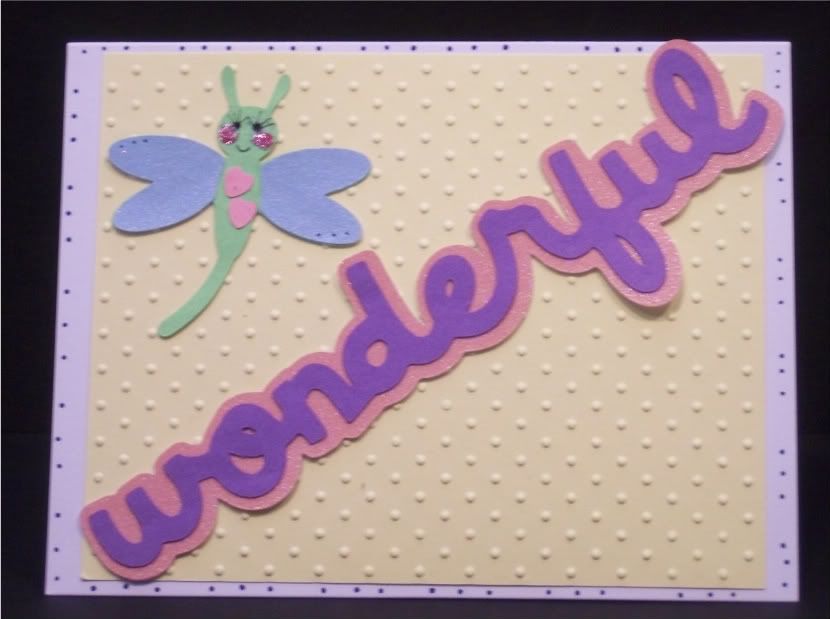 Enjoy,
Carol