Over at My Sheri Crafts, we are doing a challenge with a Mardi Gras theme. I had to sit for a few moments and think where I could find something a bit different regarding images to use. There are alot of masks out there on the internet. So, I realized that my Cuttin Up Cricut Cartridge had a martini and let' party words. This worked out great! Enjoy.
Supplies Needed;
Solid and Sparklie Cardstock
Sparkle Pearls
Silver Gel Pen
Embossing Machine (I have the Sizzix Texture Boutique)
Cuttin Up Cricut Cartridge
Red and Green Sparklie Glue
Cricut Cutting Machine
Speed low or med, Blade 6, Pressure High
Instructions;
Cut 1- 4in Martini Glass with Olive (multi cut), Cut 1- 2 3/4 in Let's Party Words
For the Martini Glass I used sparklie cardstock, make sure to use the multi cut. The sparklie cardstock wont cut well with just one cut.
With your mat for the card, run it through the embossing machine. Any image will do. Place on the card, adding the lines and dots on he mat.
Now use the sparklie glue to make the olive green and the letters red. Add sparkle pearls.
This card sat overnight to make sure it was dry.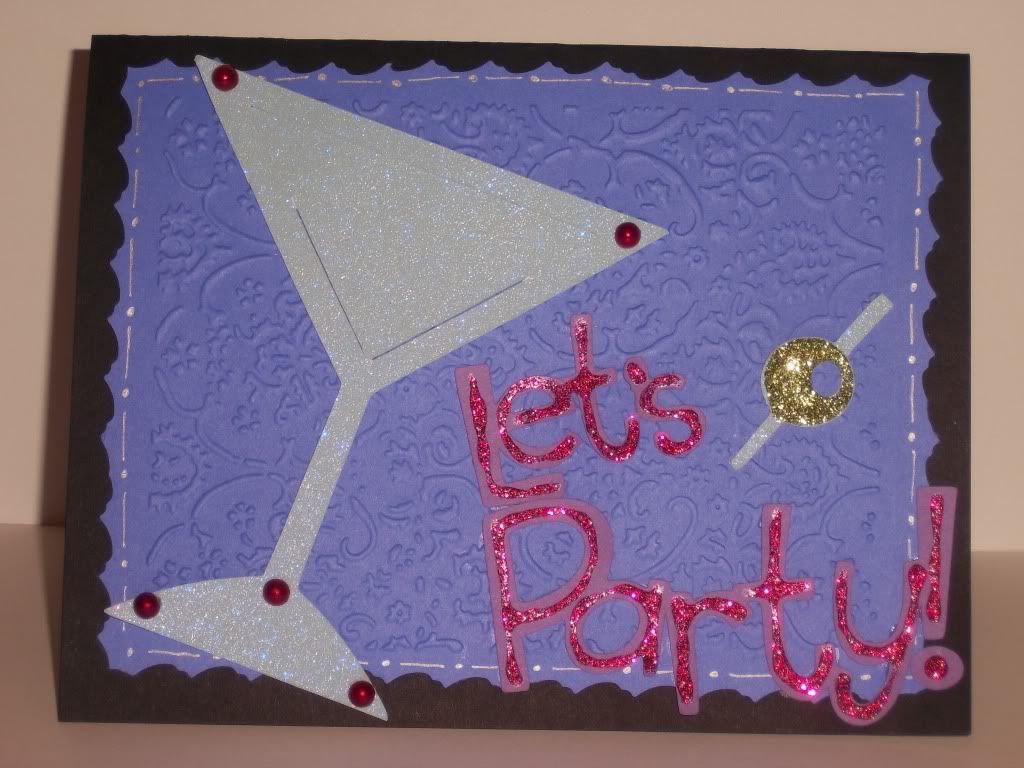 Have fun with this. Use another image and wording. Think outside that box.
Blessings,
Carol