I made this pretty card for friends at our at church. They are currently going through a life trial and thought the card would lift them up. Since my husband purchased the Cricut Expression for me in November of 2009, making cards is the norm now. The cards are made with love and better quality than a store bought one any day of the week. Our friends just love that fact that they are handmade. The cartridge which is used is the Freshly Picked and a scroll from the Serenade. The Serenade is one of the two cartridges which came with my Cricut. For a long time I could not afford to purchase any cartridges. So, I became super creative and thought up all types of ways to used the images. Remember think out of the box when creating.
Supplies Needed;
Cricut Cartridges; Freshly Picked and Serenade
Cardstock Solid and Printed
Sparklie Glue
Cricut Cutting Machine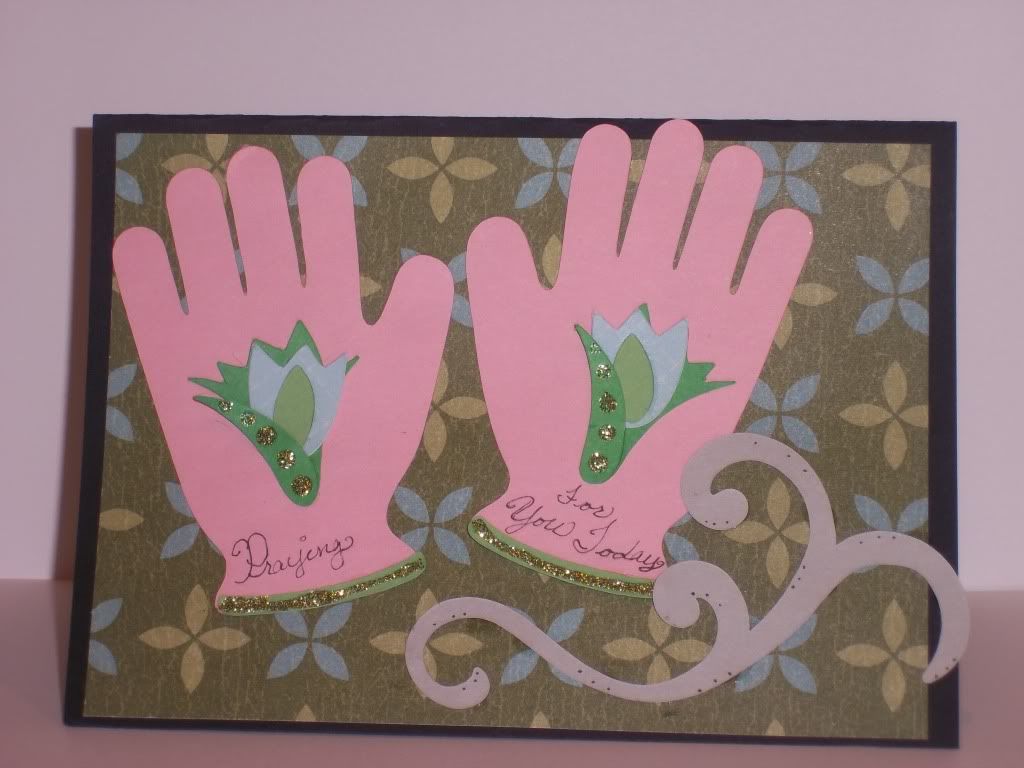 Instructions;
Cut 1- 3 3/4 inch each of Freshly Picked, Gloves 2, Gloves 2(shift), Gloves 2 (layers), and Gloves 2 (Layers shift). Cut 1- 1 3/4 in scroll from the Serenade Cartridge.
Make a mat for the card from the printed cardstock.
Put everything together and place on the card. Then, just add your sparklie glue and little dots on the scroll.
Enjoy!!
Blessings,
Carol