Stacy over at
Love That Bug
blessed me with a new award. A Thing of Beauty Award. Totally excited. Please visit Stacy and check out her site, it is wonderful.
NOTE: Ladies when accepting this award, you must list 5 things about yourself (including why you like crafting), pass it on to 5 others, and when you post the award to your sidebar, the award creator would like the award linked to her: gracenotes4today. (Audrey)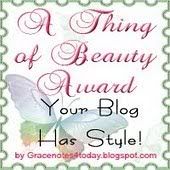 5 New Things About Me;
I have been sewing since I was 5 years old. My mother taught me.

My church family is our family.

Since my husband purchased the Cricut Expression for me, I am addicted to cardstock.

Blogging has become a wonderful place to share my creativity.

I really love the wonderful people that I have met in the blogging community.
Here are the 5 Creative Bloggers I am passing the award on to. Stop on by their blogs. These ladies are very creative and I am inspired by their creations.